The Success of Fundamental Change
Saints Reach Liberty League Semifinals
After finishing 8-17 and missing the Liberty League playoffs last year, the St. Lawrence University women's basketball team completely changed its game plan heading into the 2019-2020 season of one overarching goal, the Saints returned to fundamentals. 
Those fundamentals included ball-handling, shooting percentage, and passing; they focused less on game planning for each individual game and more on player development.
The results speak for themselves. The Saints led the Liberty League in scoring defense, field goal percent defense and three-point field goal percent defense. As a result, they finished the season 18-9, advancing to the Liberty League tournament semifinals for the first time since the 2015-2016 season.
"Last year it was individuals playing a team sport and this year, it was a team playing a team sport," says Saints junior forward Katie Frederick. "This season, for me personally, I needed to focus on why I enjoy playing basketball. Instead of focusing on winning, we focused on having fun playing and making memories together. On the court and off the court, there were so many little moments that turned into memories, and everything we did this season we just had fun doing it together."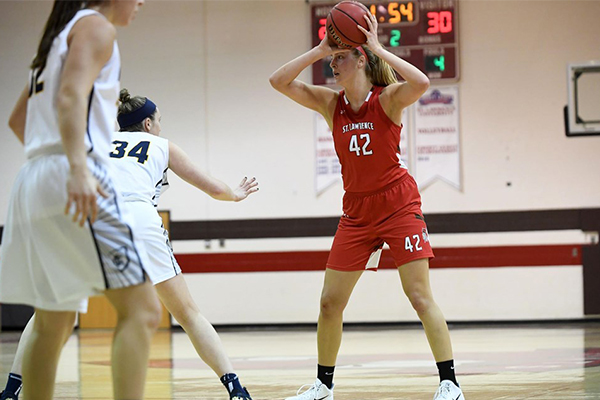 Katie Frederick '21
"Katie is a fun player to have on our team," says head coach Dan Roiger. "Her work ethic and focus have earned her the respect of teammates, which has led to some leadership skills. She is very bright and inquisitive, but also open-minded and humble. Even though Katie is an excellent player, she asks questions on and off the court, and wants to continue growing."
Frederick's humility shows when she talks about her teammates. Instead of taking pride in her own accomplishments, her best memories of the season involve great play by her teammates.
"There's nothing like seeing Olivia Middleton cross someone up and hit Ava McCann for a three-pointer," says Frederick.
The Sunapee, New Hampshire, native started all 27 games for the Saints this season. She tied the program record for rebounds in a game with 23 rebounds against Elmira on January 6 and scored a career-high 32 points at RIT on February 8. Frederick recorded 13 double-doubles, averaging 14.1 points and 12.1 rebounds per game to earn CoSIDA Academic All-District, First-Team All-Liberty League, and Liberty League All-Academic honors. Frederick credits her success both on the court and in the classroom to help from her teammates.
"You only have so much time in between classes or before practice, so prioritizing your big commitments is key," says Frederick. "It's a huge part of our team culture to focus on our academics just as much as we focus on athletics." 
With 10 players returning next season, hopes are high that the Saints' trajectory will continue to rise.
"Next year we get to build off what we learned this year," says Frederick. "We know what the work ethic and expectations are and we won't need to start from scratch." 
Season Recap: 
Head Coach Dan Roiger and his assistants, Chelsea Welch and Marlee Gunn '21, were named Liberty League Coaching Staff of the Year, after leading the Saints through a successful turnaround season. The Saints more than doubled their win total in 2019-20 from a year ago (8) and they returned to the conference postseason for the third time in five years, topping RIT 83-56 in a first-round game. On top of finishing the season first in scoring defense, holding their opponents to just 55.3 points per game, the Saints were also top in field goal percentage defense (.328) and 3-point field goal percentage defense (.231) as well as 3-point field goal percentage at .365. St. Lawrence also finished in rebounding offense and third in rebounding defense, while leading the league with 30.0 defensive rebounds per game.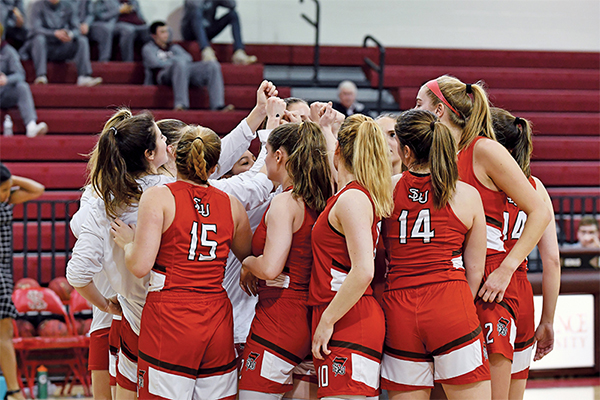 2019-2020 Saints Women's Basketball Team
The Saints excelled on the court and in the classroom as all eight eligible members earned a spot on the Liberty League All-Academic team, having earned a cumulative GPA of 3.30 or higher.
"This past season was an outstanding year for Saints' basketball," said Roiger. "We were able to overcome a significant number of injuries early in the season and finish strong just before Christmas. After the break, we had a great run to put ourselves in not only an excellent playoff position, but also competing for the league championship, and to get a win in the playoffs and get to the semifinals in the league was a positive step for this young team."
Sophomore guard Ava McCann broke the school record for 3-pointers in a season, finishing the season with a team-high 80 shots from the arc. She ranked second on the Saints' squad with 13.3 points per game and tallied 359 points, 48 rebounds, 24 assists and nine steals. McCann recorded a career-high 31 points at home against Vassar on February 1 and earned Performer of the Week honors on February 3.
"A big part of our success was the leadership of our two seniors [Annabella Pugliese and Caroline Rodi]," Roiger added. "In addition, the team's ability to concentrate and execute a game plan was significant in being one of the better defending teams in the league. We got some excellent play from individuals, including scoring and rebounding from Katie Frederick, perimeter shooting from Ava McCann, and good point guard play from Dylan Watkiss and Olivia Middleton. Olivia Barringer was also one of the top freshman in the league and gave us an inside presence besides Katie." 
"We have much of our team's production and minutes returning next year. We have an excellent recruiting class coming in that will provide more depth and skill. We have a lot to look forward to in the Saints basketball program and if we have success in the future, we will look back to this team as laying the foundation for that success."