Laurentians Raise over $1 Million for 1856-Minute Challenge
Thanks to the support of over 2,000 alumni, parents, students, faculty, staff and friends, St. Lawrence University's 1856-Minute Challenge surpassed the $1 million mark on Thursday, April 8.
This year's annual donor challenge offered Laurentians the opportunity to support our students while honoring President Bill Fox '75, who will retire on June 30 after leading his alma mater for the past 12 years.  The Fox Center for Academic Opportunity was featured, as the center will encompass programs that support students' academic pursuits, close opportunity gaps, and fuel creativity. 
"This is another overwhelming Laurentian moment for me personally.  Really breathtaking," said President Fox after the Challenge ended at 5:00 p.m. ET.  "There is absolutely no better way for a campus to 'feel the love' than an outpouring of instantaneous generosity.  I am deeply grateful, but am not alone, as this challenge proves again, in knowing how lucky it is to have St. Lawrence a part of our lives."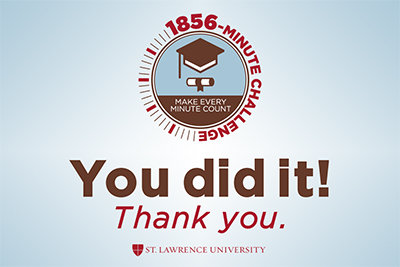 This is the first donor drive hosted by St. Lawrence that has raised over $1 million, thanks in part to three successfully-met challenges made by Laurentians. 
An anonymous trustee offered $250,000 if 1,856 donors supported the effort in 1,856 minutes.

A Laurentian family offered a $250,000 dollar-for-dollar match that doubled impact from donors of all sizes.

Trustee Peter Hunt '75 offered to match $100,000 for the Class of 1975 in support of renaming the Multipurpose Room in the Fox Center of Academic Opportunity.
"Thank you to the donors from around the world who supported St. Lawrence and its students while showing gratitude to President Fox," said Joe Keniston '05, Executive Director of Laurentian Engagement and Annual Giving.  "We're so fortunate to have generous challengers and advocates who sparked a record-setting effort that every Laurentian can be proud of."
Programs that will benefit from the 1856-Minute Challenge include Academic Advising, Sophomore Journeys, Career Connections, the First-Year Program, Student Accessibility Services, the Arthur O. Eve Higher Education Opportunity Program (HEOP), the Collegiate Science and Technology Entry Program (CSTEP), and the Ronald E. McNair Post-Baccalaureate Achievement Program.  Gifts included in the Challenge results are a combination of outright expendable and endowment gifts. 
If you missed out on supporting the 1856-Minute Challenge but would like to show your support to the Fox Center, visit https://alumni.stlawu.edu/make-an-online-gift.