Laurentians Always Help Other Laurentians, Just Ask
There's a reason St. Lawrence's alumni network is ranked No. 4 in the nation.
St. Lawrence University's alumni network has always emphasized the value of connecting over common places and shared experiences. The COVID-19 pandemic hasn't changed this. Even during this time of uncertainty, alumni continue to extend their guidance and offer opportunities to the Class of 2020—all one has to do is ask.  
During the summer of 2019, Maimaitili "Mo" Ruze '20, a mathematics and economics double major from Yingsar, Xinjang, China, spent 10 weeks interning at a real estate private equity firm in New York City. He learned of the opportunity through Donna Winston '85, a member of the Board of Trustees who serves as the firm's senior managing director of human capital management and became Mo's mentor during his time there.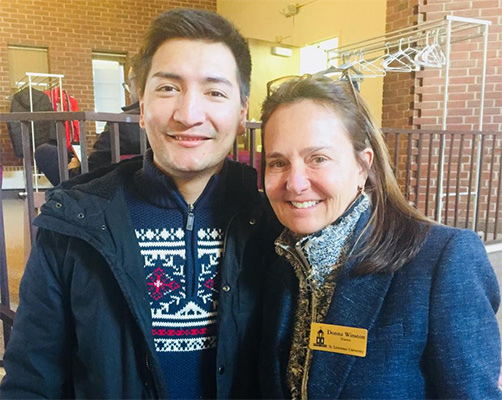 Mo and Winston at the Spring 2020 meeting of the Board of Trustees.
"Donna was really generous with her time," he says. Winston helped Mo and two other Laurentian interns, Ryan Donohue '20 and Ryan Garvey '20, understand the versatility of their liberal arts education and see the multiple ways in which it can be applied to their future careers.
Mo was upfront with Winston about his interest in credit research and expressed a desire to return to the firm the next summer. After the internship, he and Winston stayed in touch and she ultimately offered Mo a job on the corporate credit team. Ryan and Ryan have also accepted offers of employment at the firm. 
Mo's experience exemplifies the enthusiasm of St. Lawrence's alumni network to connect with students who share the places and values that shape the Laurentian experience.
"SLU alumni are very easy to talk to and try their best to help you as long as you ask," says Mo, who believes the generosity and approachability of St. Lawrence's alumni make them unique. 
Winston sheds some light on where this inherent drive to help might come from. She says, "Laurentians are all aware of what they are capable of doing, but sometimes don't know how to get there. Alumni can help by offering valuable insights and mentorship."
At one point or another, she explains, we've all needed a sense of direction or a break. When that happens, "the St. Lawrence network is a powerful group, there to help connect you to the right person."
Mo isn't the only member of the Class of 2020 who asked for help that led to an opportunity. Both Eleanor Napoli '20 and Kristen Phillips '20 reached out to alumni who, like Winston, helped them land their first post-graduate jobs by encouraging them to leverage the universal value of the critical-thinking and problem-solving skills they acquired at St. Lawrence.
Eleanor, an English major and performance and communication arts minor from Wilmington, Delaware, will begin as a financial planning analyst at the Boston office of Northwestern Mutual later this summer—a position she secured with the assistance of Madison Wilcox '14, director of the financial planning department. Eleanor's a big advocate for connecting with alumni in industries that spark a student's interest, even if they're not directly related to their area of study. 
"Madison knew that I was an English major and a communication arts minor," says Eleanor. "While that isn't the traditional route people typically take to get into this industry, she reassured me that many aspects of the job were teachable as long as I approached it with a readiness to learn and willingness to work hard."
Wilcox actively seeks out opportunities to hire Laurentians by contacting past professors, posting available jobs to the St. Lawrence University LinkedIn group, and reaching out to Career Services. This spring, one of her firm's managing partners requested they hire a few members of the Class of 2020.
"I find SLU grads have so much in common with one another and they genuinely seem to work so hard," she says. "I attribute it to the unbreakable bond that being a Laurentian instills in us. We cannot let each other down."
Kristen, a performance and communications arts and psychology double major from Quechee, Vermont, plans to start her new role as a business development representative with Impact, a software-as-a-service (SaaS) platform for performance marketing, in June. She's grateful to Andrew Carvahlo '17, a customer success specialist at Impact, who provided guidance and insight throughout the interview process, which helped her feel more confident about her performance and, ultimately, her decision to accept the role. 
"Laurentians always want to help other Laurentians," says Kristen, "At first, I felt awkward asking for things, but the reason I have my job today is because I asked a Laurentian for help."
"It's embedded in the culture at SLU," says Carvahlo, who was happy to help Kristen and ecstatic when he heard she got the job. 
Carvalho says that now, more than ever, alumni are willing and eager to lend a hand to recent graduates embarking on their career journeys. Both he and Wilcox believe that shared experiences go a long way when asking and giving the help Laurentians are known for. Wilcox urges current students and recent graduates not to pass up on an opportunity to connect—even if it starts with a simple LinkedIn message.  
"We're well-rounded, survived some frigid winters, and have instant connections on so many experiences," she says. "I believe the alumni network is one of the most valuable offerings St. Lawrence provides its students—absolutely utilize it."
On May 17, St. Lawrence's alumni network grew by one more class, and Winston believes that, given the challenges posed by the pandemic, these new graduates and their peers will offer invaluable insight to their new community as they navigate their next steps.
"The wisdom of the past two generations will not compare to the wisdom of the Class of 2020. These Laurentians are entering into a world that is experiencing life-altering changes," Winston says. "I feel the older classes will learn a tremendous amount from what the Class of 2020 does with their lives."