Four Alumni to Receive 2021 Awards from Alumni Executive Council
St. Lawrence University's Alumni Executive Council has announced its 2021 Alumni Award winners.  Thomas E. Hoffman '75, P'20, Gary C. Dake '82, and Mary Neff Peterson '82, P'12, '14 will receive Alumni Citations for their dedication and service to the Laurentian Community, while Jennifer Johnson Eddy '82 will receive the Sol Feinstone Award for Humanitarian Service.  These honors will be presented virtually during The Laurentian Celebration on June 16, 2021.  These four honorees will be joined by 2020 Alumni Award recipients Heidi A. Hansen '70, Jamie P. Baker '89, Todd R. Haskell '90 and Molly Mullady Arbogast '91 who will receive Alumni Citations, and Donald Danforth III '89, P'20 will receive the Sol Feinstone Award for Humanitarian Service.
Alumni Citation Recipients
Thomas E. Hoffman '75, P'20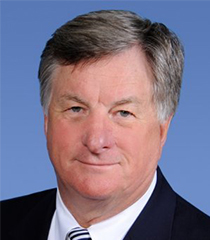 Tom Hoffman '75, P'20 truly defines what it means to be a Laurentian for Life. Tom, who earned his degree in economics, is a leader in both the St. Lawrence and Hingham, Massachusetts communities, and is a friend to all who don the Scarlet and Brown.
Tom, perhaps better known by one of his nicknames like "Moose" or "Hoffy," is a brother of Beta Theta Pi, played on the football team, was a member of KSLU Radio, sports editor for The Hill News, and was inducted into Omicron Delta Kappa. Tom has continued this dynamic engagement with his alma mater for the last 46 years, having volunteered in a litany of ways including on the Alumni Executive Council, Reunion, Admissions, Career Services, and the Parents Committee. Tom, his spouse Debbie and daughter Colby '20 have hosted a variety of Laurentian events, including a summer event with President Bill Fox '75 on Martha's Vineyard in 2019. He and his family also  facilitated the creation of the Hoffman Cup for the football program, a rivalry trophy now on the line at the annual St. Lawrence vs. Norwich game.
Tom matches this passion and leadership in his own community, where he is the co-founding Board Member and treasurer of South Shore SNAP (Special Needs Athletic Partnership). He personally founded this organization, with co-founder Warren Pelissier P'15, after identifying the need and benefits for children with learning disabilities to get involved in sports. Tom has also served on various boards and with local organizations including Hingham Youth Football, where he served as President for five years and will start his 20th year as coach this Fall. Tom is the chair of Hingham's 50 Flags Campaign, in which 20,000 American flags are placed around Hingham over the 4th of July. He also chairs three community fundraising events to support the Hingham Veterans Assistance Fund and The New England Center and Home for Vets.
Professionally, Tom is a veteran of over 35 years in the financial services industry, and is currently a partner with KAF Financial Advisors, LLC. He and his team help individuals and businesses design, administer and monitor their retirement plans. Prior to his financial services career, Tom had a nine-year stint working as the Director of Public Relations and Business Manager for the New England Patriots of the National Football League.
Tom is a loyal donor to St. Lawrence, having supported many critical programs and causes. He most recently supported the Fox Center for Academic Opportunity, but has also been supportive of women's lacrosse, football, baseball, the Appleton Arena renovation, the Beta Temple restoration and the St. Lawrence Fund.
Gary C. Dake '82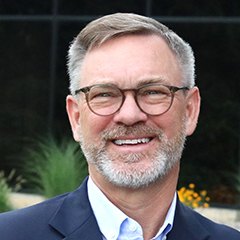 Despite a demanding schedule as the President of Stewart's Shops, Gary Dake '82 has always found time for his alma mater and its students. Gary, who graduated with a degree in economics, was active on campus as a brother of Phi Kappa Sigma, an Admissions tour guide and a member of KSLU Radio. 
In his professional life, Gary has helped build a strong company in Stewart's Shops, a family business, with over 340 stores located across upstate New York and southern Vermont. His corporation employs over 5,000 people, and can proudly add their employees own over 40% of the company through the Employee Stock Ownership Plan. Stewart's Shops also gives back to various communities, donating nearly $2.5 million annually to local non-profits. Gary is very involved in service to the community. He founded The Dake Foundation for Children, whose mission is to provide assistance for children and young adults who have physical disabilities and provide support for their families. He also just completed his term as Chairman of St. Peter's Health Partners and still remains on the board, and serves on both the Advisory Council for Wilton Wildlife Preserve and Park and CAPTAIN Community Human Services and on the board for both Saratoga National Bank and its publicly traded parent company, Arrow Financial Corp. 
In 2000, Gary was named one of the "40 under 40" top business people by the Albany Business Review. A graduate of Leadership Saratoga, he was honored by the national Association for Community Leadership in 2000 by being named one of the Distinguished Leadership Award recipients. City and State magazine (cityandstateny. com) recently named Gary to the 2021 Upstate Power 100, a list of the 100 most "powerful" people in upstate NY. 
Gary has been an engaged alumnus both with his time and generosity. He has helped support the Annual Saratoga "Day at the Races" event with St. Lawrence, and is a longtime volunteer for Career Services programming including SLU Connect, Laurentians Investing in Networking and Careers (LINC), and Laurentians in Residence. Most recently in August of 2019, Gary and Stewart's Shops arranged for a St. Lawrence-themed ice cream flavor, "SLU-Ha-Ha," and Gary participated in a launch event at one of the Canton stores. A Sustaining Saint donor since 1993, Gary is a longtime supporter of the St. Lawrence Fund. He recently supported both the Fox Center for Academic Opportunity, and in partnership with his family and Stewart's Shops, made a significant gift to establish an Internship Fellowship Endowed Fund. 
Mary Neff Peterson '82, P'12, '14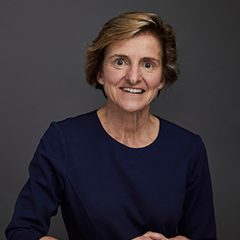 Mary Neff Peterson '82, P'12, '14 is a pillar within a Laurentian family, with nine members of the Peterson family (and counting) having attended St. Lawrence University. A government major, Mary was an outstanding student, earning departmental honors and induction into Phi Beta Kappa. She is also a proud sister of Kappa Delta Sigma. 
While Mary opted to study abroad in Vienna as a student, her late husband Barrett '82 and their four children, Haley KSP '11, Conor '12, Addie '14, and Emmett KSP '16 all studied on the Kenya Semester Program. Mary embraced her family's love of Kenya, and participated in the Laurentian Travel Program to Kenya with Haley and Addie in 2019, meeting the faculty and many of the families who had hosted Petersons on their rural and urban homestays. 
Following her Commencement in Canton, Mary received her JD from Northeastern University and worked as a litigator in Boston, MA and Burlington, VT. She served three terms in the Vermont House of Representatives, as Chair of Williston's Select Board, as a board member at the Vermont League of Cities and Towns, and six years as the Commissioner for the Vermont Department of Taxes. Mary recently relocated to Washington, DC, and is now the Executive Director of the Federation of Tax Administrators. 
Mary worked tirelessly on St. Lawrence's behalf to establish Burlington, VT as a Laurentian stronghold. From recruiting alumni to participate in the first ever SLU Connect – Burlington program, to serving as the host of a Women's Initiative event, Mary is always willing to help her alma mater. She was also a longtime member of the Alumni Executive Council, serving in leadership roles as committee chair for Student Services and Faculty Engagement. 
Mary has been a loyal donor to St. Lawrence for over 30 years, giving to the St. Lawrence Fund annually and supporting special initiatives when asked including the Engaging Africa Fund, the Alumni Executive Council Internship Endowment Fund, and the Kappa Delta Sigma Alumnae Fund. 
Sol Feinstone Humanitarian Award
The Feinstone Award is presented to a graduate who, through devotion of his or her resources or personal effort, has demonstrated deep commitment to the advancement of the freedom of people to pursue and attain personal, professional and economic freedom.
Jennifer Johnson Eddy '82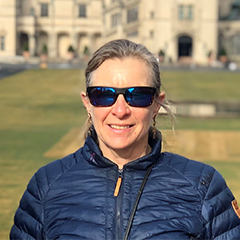 Jennifer "Jen" Johnson Eddy '82 made an impact felt at St. Lawrence University as a student, and through her hard work, creativity and generosity, she continues to make an impact today.
Jen was a French and history double major at St. Lawrence.  She donned the Scarlet and Brown with the women's lacrosse team, performed with the Laurentian Singers, studied abroad in France, and is a sister of Kappa Kappa Gamma.  After her Commencement, she worked in corporate lending and bond sales and trading for 13 years before choosing to focus on her growing family. Jen would then attend the Cambridge School of Culinary Arts and earned her Professional Chefs Certification. She worked in accounting and special events at two restaurants in Salem, MA, and has served on the board of several nonprofits in Essex County including Hospice of the North Shore, Wellspring House, Windrush Farm, Essex County Trail Association, Appleton Farms and Three Sisters Garden Project.
In 2016, Jen founded Root North Shore, a non-profit youth job-training program aimed at helping young adults create a pathway to independence through food service training and employment. By developing essential life and work-readiness skills, participants leave Root prepared for success in the workplace. Jen, among many other duties, is the organization's board chair. When the program was suspended in March of 2020 due to COVID-19, the program model was adapted to include the development of free community meals for vulnerable North Shore residents. Now known as Community Catering, it is a permanent part of Root North Shore's work and nearly 18,000 emergency meals have been provided since the pandemic began. 
Jen's commitment to St. Lawrence is unwavering, as she is both a reliable supporter of the St. Lawrence Fund and an active volunteer. She has participated in SLU Connect - Boston, hosted two Women's Initiative events, and was a Laurentian in Residence in 2017. She made a major impact to The Campaign for Every Laurentian, endowing the Jennifer Johnson Eddy '82 Internship Fund.