Five Alumni to Receive Awards from Alumni Executive Council
St. Lawrence University's Alumni Executive Council has announced its 2020 Alumni Award winners.  Heidi A. Hansen '70, Jamie P. Baker '89, Todd R. Haskell '90 and Molly Mullady Arbogast '91 will receive Alumni Citations for their dedication and service to the Laurentian Community, while Donald Danforth III '89, P'20, will receive the Sol Feinstone Humanitarian Award.  These honors will be presented in-person at Reunion Weekend 2021, June 3-6.
Alumni Citation Recipients
Heidi Hansen '70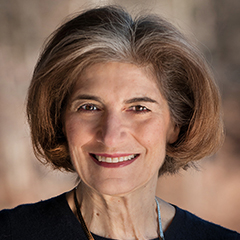 Heidi Hansen '70 has been a loyal Laurentian for over 50 years, having built a sustained legacy of service and friendship.  A student leader who graduated from St. Lawrence University in 1970 with a degree in biology, she was an advocate for diversity and inclusion during her sorority's transition from Kappa Delta to Kappa Delta Sigma.  Heidi, who was also a member of the Thelomathesian Society and the Outing Club, would further her education at Cornell University where she earned an MBA, followed by qualifications as a Certified Public Accountant and Chartered Financial Analyst. 
During her career in finance, Heidi served as a consultant for Arthur Andersen and Company in Minnesota as well as an associate portfolio manager at IDS-American Express (now Ameriprise), where she was the first female portfolio manager, co-managing $7 billion in fixed income assets for the company.  When Heidi eventually moved to the east, she continued to work in finance, auditing, and consulting in the New York City and New Jersey areas.
In her local community, Heidi volunteers for the Volunteer Income Tax Assistance (VITA) program through her library, where she helps individuals in the community who need assistance with their tax returns.  Heidi also volunteers for Family Promise through her church, where she helps to prepare and serve meals for homeless families in the community. 
In addition to volunteering in her own community, Heidi's commitment to her alma mater has been unwavering.  Her service to St. Lawrence includes having been a member of the Alumni Executive Council for two terms, as well as a volunteer for many Reunions, Career Services and Admissions.  A regular at networking events in the Big Apple, she also mentored St. Lawrence students in Excel as part of the New York City Semester program.  Most recently, Heidi served on the planning committee for Kappa Delta Sigma's 50th Anniversary Celebration during Reunion 2019, as well as serving as the chair of the Class of 1970's 50th memory book project for Reunion 2020. 
Heidi has earned Sustaining Saint honors as a donor to St. Lawrence for over 25 years and has supported various projects and funds including Kappa Delta Sigma, various endowments and the St. Lawrence Fund.
Jamie P. Baker '89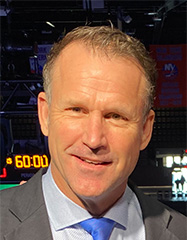 Jamie Baker '89 has built an outstanding career in the world of professional hockey over the past 30 years.  As a Division I student-athlete playing in Appleton Arena, he was an economics and sports and leisure studies double major.  He finished his collegiate playing days with 134 points on 54 goals and 80 assists, including a career-high 50 points (26g, 24a) in the 1987-88 season that led the Saints to the NCAA Championship game.
After graduation, Jamie embarked on a professional career that spanned 10 NHL seasons with teams including the Quebec Nordiques, Ottawa Senators, San Jose Sharks and Toronto Maple Leafs.  Following his playing days, he served as a radio personality for the Sharks until 2014 when he became their television color commentator alongside fellow alumnus and play-by-play commentator Dan Rusanowsky '83.
While Jamie's career is centered around his voice, he recently showed courage and strength when using his voice to discuss a critical topic in society today: mental health.  In a high-profile story shared in "The Athletic," Jamie discussed his struggles with mental health and the challenges he faces day-to-day.  His openness and honesty helped confront stigmas around mental health, and served to show others they are not alone in their battle.
As an alumnus, Jamie has been a key volunteer for the SLU Connect – San Francisco program, including hosting the students at the SAP Center for a panel presentation followed by a San Jose Sharks game. He is a regular donor to athletics and the men's ice hockey program.  
Todd R. Haskell '90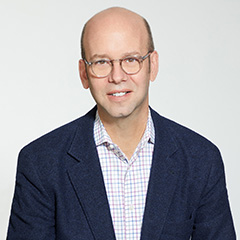 Todd Haskell serves as the senior vice president and chief marketing officer of Hearst Magazines. In this role, he is responsible for the corporate marketing functions for Hearst's industry-leading portfolio of 25 multi-platform magazine brands, including Elle, Cosmopolitan, Esquire, Men's Health and Good Housekeeping. Haskell, who was a history major and geography minor at St. Lawrence, also leads Hearst Magazines' marketplace and industry relations efforts, as well as press relations.
Haskell started his career at The New York Times Company in 1989 as an intern. From 1994 to 2004, Haskell worked for Meredith Corporation in numerous positions, including general manager of Ladies' Home Journal, and managing director of Meredith Integrated Marketing.   In 2004 Haskell returned to The New York Times Company, where he served in a variety of leadership roles over the next nine years, including sales leadership of NYTimes.com when it launched its successful paid subscription product.  He joined Hearst Magazines in 2013 to lead a re-imagination of their digital sales efforts, and successfully built the digital advertising business over six years as SVP/Chief Revenue Officer. 
As an undergraduate, Todd was President of the Thelomathesian Society, a member of Phi Kappa Sigma, worked as an Admissions tour guide and a Writing Center tutor.  After earning his bachelor's degree from St. Lawrence in 1990, he earned a Master of Business Administration from Fordham University.   
Todd has continued to strengthen his ties to St. Lawrence as an alumnus.  He has served as a member of the Alumni Executive Council and currently serves on the Laurentian Major and Planned Gift Committee for The Campaign for Every Laurentian.  He is co-chairing his 30th Reunion, has returned to campus as a Laurentian in Residence and has hosted students at Hearst for both the LINC program and SLU Connect – NYC.  He is a member of the Laurentian Leadership Society and the G. Atwood Manley Society, and is a Sustaining Saint, having supported the St. Lawrence Fund as well as his endowed scholarship.
Molly Mullady Arbogast '91 
Molly Mullady Arbogast '91 is the President and CEO of POV Sports Marketing. She founded the agency in 2016 after a successful 25-year career in sports sponsorship sales designing innovative solutions in the NFL, NBA, college sports, music and more. POV's clients includes brands such as Wawa, Firstrust Bank, Bimbo Bakeries, ASM Global and Independence Blue Cross.
A Spanish and government double major, Molly graduated with honors from St. Lawrence in 1991.  As an undergraduate, she studied abroad for a year in Spain en route to induction into both Pi Sigma Alpha and Sigma Delta Pi, the Government and Spanish honorariums.  Molly also served as a tour guide for the Admissions Office and was a member of Kappa Delta Sigma.
Molly's path to sports marketing began through her 1991 St. Lawrence graduation speaker, Mark McCormack. Assigned to defend his selection as graduation speaker, Molly discovered the sports marketing industry during her research and subsequent presentation to the President and Dean. She actively pursued Mark following his commencement address to secure a position at IMG in September 1992. The career that followed has been tremendous. In 2019, Molly was recognized as a Sports Business Journal Game Changer Honoree (top women in sports).
Molly's connection to St. Lawrence has remained strong through her steadfast support of the Laurentian network and Career Services.  She served as the keynote speaker for a Fireside Chat on campus, hosted alumni gatherings in the Philadelphia area, and has been a resource for many students interested in pursuing a career in the professional sports industry.  A Sustaining Saint, Molly is a loyal St. Lawrence Fund supporter and has served as a Reunion volunteer several times as an alumna.
Sol Feinstone Humanitarian Award
The Feinstone Award is presented to a graduate who, through devotion of his or her resources or personal effort, has demonstrated deep commitment to the advancement of the freedom of people to pursue and attain personal, professional and economic freedom.
Donald Danforth III '89, P'20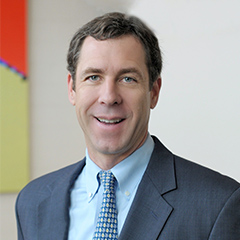 Don Danforth's commitment to the betterment of both the Laurentian and greater St. Louis communities is steadfast.  A 1989 graduate of St. Lawrence, Don earned a double major in English writing and history and was a brother of Sigma Chi.  Following his time in Canton, he began his professional career at Ralston Purina Company before being named the education director for the Mathews-Dickey Boys' & Girls' Club, where he had served as a volunteer tutor.  He would later co-found City Academy, the only private independent elementary school in St. Louis providing scholarship support to all students, and assumed the role of president when the school opened in 1999.  The school serves approximately 250 students three year-olds through sixth grade. 
Don's service to St. Louis extends to his work on numerous non-profit boards, including the American Youth Foundation, the St. Louis Children's Hospital, KIPP St. Louis and Teach for America.  His local community showed their appreciation for his efforts, as Don was awarded The Princeton Award for Community Services as well as the CORO Leadership Center Emerging Leader Award.  He was also named to St. Louis Business Journals "40 Under 40" in 2002 and the Opportunity Maker Award from Boys Hope Girls Hope of St. Louis.
While Don has been a tremendous resource in the St. Louis Community, members of the Laurentian Community have also benefitted from his time, energy and passion.  He and his wife, Susannah Webb Danforth '89, currently serve as the co-chairs of the University's Senior Parent Initiative.  Don represented his alma mater at the Washington University presidential inauguration in the fall of 2019, and he and Susannah have been members of the Parents Committee throughout their son Danny's tenure on campus.  A past Laurentian event host in St. Louis and a Laurentian in Residence panelist, Don and Susannah are also Sustaining Saints, having showed consistent and generous support of the St. Lawrence Fund.